Chief Minister addresses public meeting in Varanasi Ganjari following laying of foundation stone of International Cricket Stadium by Prime Minister Narendra Modi , CM welcomes PM, veteran former players to Kashi 
Jubilee Special Desk
Varanasi. Chief Minister Yogi Adityanath said on Saturday that there has been a change in people's perception about sports and players in the country in the last nine and a half years due to the visionary leadership of Prime Miniater Narendra Modi.
Speaking at the foundation stone laying ceremony of the International Cricket Stadium in Varanasi Ganjari, which was graced by the Prime Minister who is also Member of Parliament from Kashi, CM Yogi said that there has been overall development in the world's oldest cultural and spiritual city under PM Modi's leadership and guidance and not only the country, but the whole world was watching Kashi attain its glory.
Prime Minister Narendra Modi laid the foundation stone of the first International Cricket Stadium in Varanasi.
While welcoming the Prime Minister and the country's legendary former players on the soil of Kashi,
CM Yogi said: "Prime Minister Narendra Modi has once again come to Kashi today with many gifts. For the first time, an International Cricket Stadium is being constructed by BCCI in Uttar Pradesh."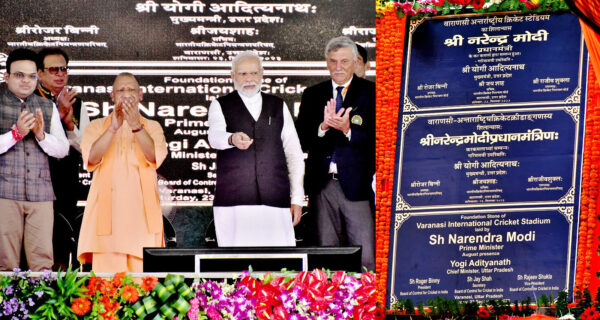 He added: "After the unprecedented success of G-20, the Prime Minister has arrived in his own Kashi today with many achievements. On this occasion, on behalf of the UP government and the people of Kashi, I extend a hearty welcome to him. During the G-20, global leaders have seen closely the potential and power of India. Not only this, in the presence of global leaders in accordance with Vasudhaiva Kutumbakam, India's 140 crore people have experienced the country emerging as a global power."
Welcoming former cricket players Sunil Gavaskar, Kapil Dev, Gundappa Vishwanath, Sachin Tendulkar, Ravi Shastri, Dilip Vengsarkar, Madan Lal, Gopal Sharma, Neetu David, Shubhangi Kulkarni to Kashi, the Chief Minister said that all of them have taken Indian cricket to new heights, taking the passion of cricket to every home. Congratulating BCCI Chairman Roger Binny, Secretary Jai Shah and Vice President Rajeev Shukla, the Chief Minister said that all of them have shown special interest in the construction of an international cricket stadium in Varanasi.
The Chief Minister remarked further: "During the last 9 years we have seen a new work culture in the entire country. There has been unprecedented development in every field. Khelo India, Fit India, Sansad Sports Competition have changed the perception of people about sports and players in the country. Along with this, the work of establishing Khelo India Center in every district, sports ground in every village and mini stadium in every development block is progressing rapidly for sports infrastructure. Sigra Stadium is being redeveloped through Smart City in Varanasi. For the first time, the foundation stone of the third international cricket stadium of UP is being laid by BCCI."