Jubilee News Desk
The Commission for Air Quality Management (CAQM) in the National Capital Region (NCR) and surrounding areas has sent shockwaves through the region by issuing a series of directives, potentially jeopardizing emergency services.
These directives impose severe restrictions on the use of diesel generator (DG) sets by emergency and essential service providers, eliminating exemptions previously granted during the Graded Response Action Plan (GRAP) period.
The implications of these directives are profound, as they limit the operation of DG sets used by emergency services, such as hospitals, nursing homes, healthcare facilities, railways, metro rail, airports, defense establishments, telecommunications, IT, data center services, and water pumping stations, to just two hours. This could lead to a complete halt in essential services in the event of a major grid failure or prolonged power outage exceeding two hours.
Critics argue that CAQM issued these directives without conducting a thorough analysis of their impact on public health, safety, and well-being, and without providing any practical basis or rationale for the two-hour limit.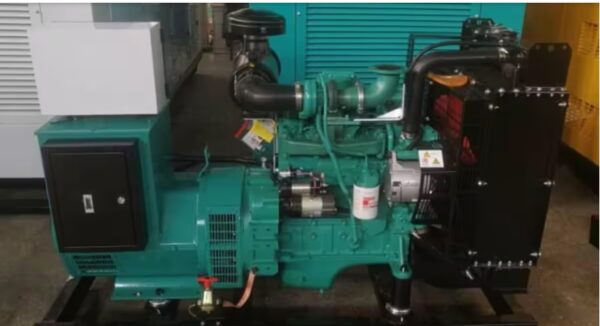 Various institutions, including the Association of Healthcare Providers (India), Cellular Operators Association of India, Association of Indian Medical Device Industry, and MSME Industrial Association, along with private organizations in healthcare, telecommunications, and data centers, have submitted representations to CAQM, expressing concerns over the adverse consequences these directives may have on the general public.
Dr. Mahesh Sharma, Member of Parliament from Gautam Budh Nagar, which infolds the industrial townships of Noida and Greater Noida said that protecting environment is indeed a good step but questioned the timing of this order from Centre for Air Quality Management in NCR and Adjoining Areas (CAQM). He said that if this order has to be implemented, there should be 24/7 guaranteed electricity supply for industries and essential services which include Hospitals and Data Centres.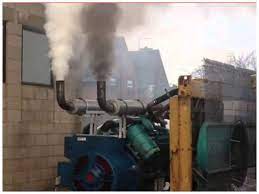 Dr. Sharma added that PNG supply to these units should be readily available and only then such an order should be brought in force. He said that he is well aware of this problem of both entrepreneurs and essential service providers and that he would take this up at the highest levels including that of Union Environment Minister Shri Bhupinder Yadav and Uttar Pradesh Chief Minister Yogi Adityanath. It is worth mentioning here that Dr. Mahesh Sharma is also the owner of Kailash Group of Hospitals, the biggest hospital chain in this part of Uttar Pradesh.
Interestingly, CAQM appears to have overlooked the recommendations of the National Clean Air Programme (NCAP), issued by the Ministry of Environment, Forest & Climate Change in 2019.
The NCAP report specifically advocated retrofitting emission control devices or replacing DG sets with gas-based generators for units with less than 800 kW capacity, as this category accounts for 91% of DG sets and lacks emission standards beyond the point of manufacture.
Despite the availability of retrofit emission control devices for DG sets below 800 kW, CAQM is pushing organizations with DG sets exceeding 800 kW to either switch to "gas-based generators" or adopt "any other emission control device/system" or a "dual fuel kit".
However, inquiries made to CAQM and Delhi Pollution Control Committee (DPCC) revealed that neither CAQM nor DPCC maintains a list of approved emission control devices, and there is no notification specifying such a list pursuant to Direction No. 73 dated June 2, 2023.
Surendra Nahata, President, MSME Industries, Noida, is highly critical of this directive imposed by CAQM as he argues that Noida, which was declared a "No-Power Cut Zone", years back, is still a big power cut zone.
Line faults and outages are regular features, he says. As for PNG connections to industries of Noida and adjoining areas, he says that there is no infrastructure in place to provide connections and only laying of pipelines could end up taking months together.
He said that his organization sent numerous representations to authorities including the Union Environment Minister. Nahata adds that, if implemented, this order would prove to be a serious blow to thousands of industries in the city as well as lakhs of workers working with them.
Furthermore, the Central Pollution Control Board (CPCB) has stated that it is not feasible to test the effectiveness of retrofitted emission control devices under iso-kinetic conditions for DG sets above 800 kW.
Instead, CPCB has proposed stack emission standards for these generator sets in accordance with the Environment (Protection) Rules, 1986. CPCB-recognized laboratories have not certified any gas retrofit or retrofit emission control devices for DG sets exceeding 800 kVA, making it practically impossible to deploy such devices, especially for emergency and essential service providers.
Vipin Malhan, Prsident, Noida Entrepreneurs Association (NEA) said that the Commission for Air Quality Management in National Capital Region an Adjoining Areas has imposed a ban on running diesel generators.
Entrepreneurs are already not in favor of running DG sets because of the high capital cost incurred in using generators and now the additional burden of paying for PNG every month will fall on industrialists.
Instead of promoting individual generators, the agencies should order the Electricity Department to supply power to industries 24 x 7. To do this, the local infrastructure must be updated extensively. It takes 5 to 6 months to give gas connection to IGL also. If industries get 24 x 7 power supply, then there will be no need to run gensets.
For emergency service providers to implement dual fuel kits or gas-based generators, they must rely on Indraprastha Gas Limited (IGL), the sole distributor of piped natural gas (PNG) in Delhi and the NCR. This reliance poses a significant concentration risk, as any disruption in PNG supply at the end of IGL due to unforeseen events could lead to a breakdown in essential / emergency services. IGL's own annual report indicates that its business continuity plan will only be ready by FY 2023-2024, highlighting the current vulnerability.
Moreover, IGL has been criticized for abusing its monopoly by imposing onerous and discriminatory conditions in its PNG Gas Supply Agreement, which offers no guarantee of uninterrupted gas supply.
In fact, the Gas Supply Agreement itself states that a gas-based generator running exclusively on PNG is not a viable solution, forcing buyers to opt for dual fuel-based systems.
However, the infrastructure for such systems is not universally available in the Delhi NCR, and no CPCB-approved labs certify dual fuel kits that meet CAQM requirements.
As on date, IGL is having around 300 pending registrations for running gas based gensets in Delhi and NCR region. Our teams are working to ensure that these connections are made operational across the region to address the environmental concerns.
Kamal Kishore Chatiwal , Managing Director of Indraparstha Gas Limited (IGL) said "as on date, IGL is having around 300 pending registrations for running gas based gensets in Delhi and NCR region. Our teams are working to ensure that these connections are made operational across the region to address the environmental concerns and as the deadline of 1st October for conversion of diesel gensets is approaching, there is a sudden spurt in the number of enquiries for seeking PNG connections, which our teams are addressing on priority. IGL is committed to provide safe, reliable and relatively clean energy to its customers in Delhi and NCR and fully support the initiatives of CAQM".
But sources within IGL say that the picture is not that rosy. They are of the opinion that one it comes to giving connections in states Uttar Pradesh and Haryana, the story is not that simple. Taking permission for digging and installation of fresh gas pipelines is in itself a tedious enough process and once all permissions are received, only then the IGL can move ahead. They say that in case of fresh applications, it could be a matter of not less than eight to nine months for IGL to provide PNG to a particular doorstep in these states.
Despite CAQM's directives aimed at ensuring uninterrupted power supply, data on monthly power outages in NCR cities show that average power outages often exceed two hours on multiple days each year. Instances of power outages lasting longer than two hours or grid failures requiring extended restoration times are not uncommon. Such interruptions, combined with CAQM's limited DG set usage directive, could have severe consequences, affecting the general public's access to emergency and essential services during the GRAP period.
Mr. M M Kutty, IAS, currently serves as the Chairperson of CAQM and is well aware of the region's power outage challenges and the arbitrary conditions imposed by IGL. His previous role as Secretary to the Government of India in the Ministry of Petroleum and Natural Gas gives him unique insight into the situation.
The implementation of new technologies in DG sets, such as dual fuel kits or unapproved emission control devices, should not be forced upon emergency and essential service providers without meeting specific conditions. These conditions include certification of dual fuel kits and emission control devices by CPCB-recognized laboratories for DG sets with capacities of 800 kW and above, the availability of a robust PNG infrastructure with uninterrupted supply, and the presence of alternative PNG suppliers to prevent undue monopolies. Ensuring the uninterrupted delivery of essential and emergency services requires comprehensive testing to guarantee regulatory compliance, safety, reliability, and compatibility with the operating environment and power output.
In conclusion, the CAQM's recent directives have raised significant concerns about the availability and continuity of emergency and essential services in the Delhi NCR. It is imperative that a balanced and practical approach is adopted to safeguard public health and safety while addressing air quality concerns. Stakeholders must work together to find viable solutions that do not compromise the well-being of the general public.