Sumit continues his dominance as India get promoted to World Group I Play-Off
Jubilee Special Desk
Lucknow. Rohan Boppana bid farewell to Davis Cup on a winning note when he paired up with Yuki Bhambri to decimate the Moroccan pair of Elliot Benchetrit-Younes Lalami Laaroussi 6-2, 6-1 in the World Group II doubles match at the Vijayant Khand Mini Stadium in Gomti Nagar on Sunday. Meanwhile, Sumit Nagal got the better of Yassine Dlimi 6-3, 6-3 as India took an unassailable 4-1 lead.
Digvijay Pratap Singh won the dead fifth rubber 6-1, 5-7, 10-6 against Walid Ahouda.
With this victory, India will now play World Group I play-off in 2024.
The day, however, belonged to Bopanna. A cross-court drop brought an end to his illustrious 21-year long Davis Cup career.
Bopanna-Bhambri coordination was seen at its best. They outplayed the Moroccan pair. Bopanna's powerful forehands had no answer from the other camp.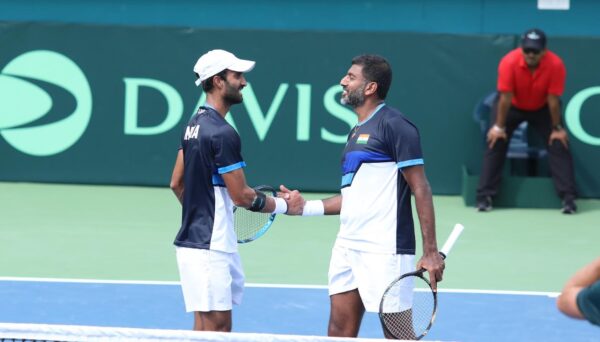 After claiming the first set 6-2, the Indian pair knew they had the rubber in their grip.Benchetrit and Laaroussi were able to bag only the first game in the second set. Bopanna picked up the volleys well while Bhambri too served well, leaving little option for the opposition to counter.Bopanna waved to the crowd, shook hands with every member of the Indian team. He walked around the court wrapped in an Indian flag, waving his hands, blowing kisses at fans in every stand.
Nagal, on the other hand, continued his winning form to beat Dlimi 6-3, 6-3. Nagal was serving big, and way better than he served yesterday.
In the first set, after winning the first game, Dlimi threatened with a comeback despite Nagal leading 40-0. The game extended into deuce, but the Indian managed to wriggle out of the situation levelling the scores at 1-1.
Nagal broke Dlimi's serve in the third game to take 2-1 lead. It was in the ninth game that he broke Dlimi yet again to seal the set 6-3.
Nagal once again broke him in the second game of the second set to go 2-0 up. But that one break by Nagal in the second set was enough for him to sail through to a comfortable victory.