New Delhi. Exploitation of Sewer workers is not just a labour issue, but it is rooted in the caste system and cannot be separated from the historical socio-religious-cultural-economic exploitation of the Dalit community!
Stated Mr. Y.S Gill, Senior Journalist and Documentary Film maker in the press conference organised by Dalit Adivasi Shakti Adhikar Manch (DASAM) in Integrated Social Initiatives (ISI), Lodhi Road, New Delhi on issues of sewer workers in Delhi. The press conference was attended by a number of community members, activists, members of the civil society, students etc.
Even as the G20 declaration of world leaders claims commitment to promoting decent work, ensuring inclusive social protection policies for all, Mr. Gill, highlighted that contract sewer workers do not even know who their contractor is, violating all norms of contractual systems!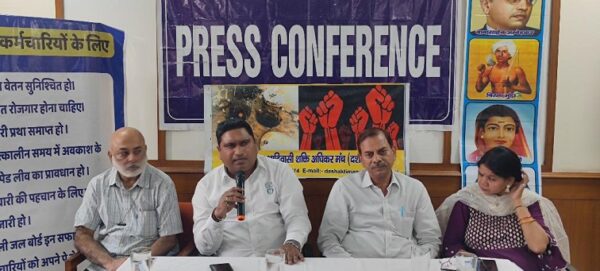 Even when the social security contracts mention health insurance and compensation Sewer workers hardly get social security, claimed Hemlata Kansotia, National Convenor of National Campaign for Dignity and Rights of Sewerage & Allied Workers. She also brought to light the plight of women sewer workers (appointed on compassionate grounds) who lift sewer 'silt', who are not even considered sewer workers!! The continued systemic exploitation of the sewer workers and the every day discriminations they face even during work is linked to the history of caste!
Mr. Virender Gaur, Chairman, Municipal Workers Lal Jhanda Union DJB: State President (CITU) brought the appalling working conditions of the sewer workers to light pointing out that one of the manpower supplying contract agency – ICSIL has not paid its workers for the last four months! Even Sewer workers working with the Delhi Jal Board are not paid minimum wages, he added, insisting that only Sangatan (organisation) and Sangarsh (protest) can make this government listen to the plight of workers.
This year Delhi has seen 19 deaths of sewer workers, all below 30 years of age whose families are not properly compensated, stated Mr. Harnam Singh, Chairperson, Monitoring Committee, Delhi High Court. While the 200 sewer cleaning machines provided by Delhi government were supposed to be allocated to families of deceased sewer workers, only 3 out of those 200 have been given to the affected families, added Mr. Harnam Singh. Mr. Gill had also appealed for the need of separate life insurance and health insurance for sewer workers who are engaged in dangerous work on a daily basis.
In addition to this, the Press Conference foregrounded that sewer workers are not given ESI Cards that would ensure health benefits which is especially important for sanitation workers who struggle with innumerable occupational health hazards.
Workers working for 10-12 years are not considered skilled and not made permanent Delhi Jal Board employees. The only way to ensure the economic and social security of sewer workers in Delhi is to remove the contractual system and recruit the workers through government departments.
Dalit Adivasi Shakti Adhikar Manch (DASAM) is an organization working for the issues of sanitation workers in Delhi NCR. DASAM's work with contractual sewer workers in the past years brought the large scale exploitation of sewer workers to light.